81% of Americans actively use some form of social media, and it is rapidly changing the healthcare industry as we know it by accelerating the shift to consumer-driven care.  As a result, easily accessible tools such as websites, blogs, and social media platforms (Facebook, LinkedIn,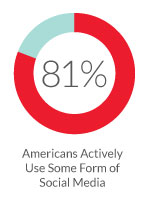 and Twitter) can all be used to help increase engagement and improve the patient care experience.  These platforms empower patients by encouraging them to leave doctor reviews, ratings, and make referrals based on their experiences.  However, this type of consumer-driven care requires significant responsibility on the part of the doctors and the facilities they work for.
A 2014 study published in the Journal of Pharmacy & Therapeutics cites that active use of online tools for doctor reputation management can lead to enhanced professional networks, greater credibility, and increased brand awareness.  The study also found that misinformation can permanently damage a healthcare providers reputation.
How important is it for healthcare providers to have a powerful online presence?
Twitter shares 65-million tweets daily
YouTube has over 2-billion views daily
More than 1/7thof the world's population can be found on Facebook
Positive doctor reviews are great but one bad doctor review can permanently damage a healthcare providers reputation. Effective online reputation management allows healthcare providers to:
Increase brand awareness
Create a target audience
Build trust
Gain credibility
Actively engage with potential patients
Having an online presence is also an advantage for patients because it allows providers to offer additional services such as:
Telehealth
Encrypted email systems
Patient medical record portals via their website
Incorporating these additional services helps to boost business, increase engagement, and improve the overall patient experience. It helps providers to strengthen patient-centered care because it expands patients' options to interact with their provider.

One survey cites that:
42% of people read health related-consumer reviews
32% of Americans share their health status on social media
80% of active internet users are searching for health-related information
Approximately 50% of internet users seeking health information are searching for a specific doctor or other medical professional
According to information published by the Medical Device and Diagnostic Industry(MD+DI), 60% of consumers trust online posts made by healthcare providers. The most active user groups are individuals with a disability and those who suffer from chronic diseases as they seek support for coping with their impairment or disease.  Patients are no longer afraid to speak up about their experiences and to leave candid provider reviews.  Therefore, online doctor reputation management has become essential to building rapport. Establishing a holistic online presence helps healthcare organizations to boost business, increase engagement, and improve the overall patient experience.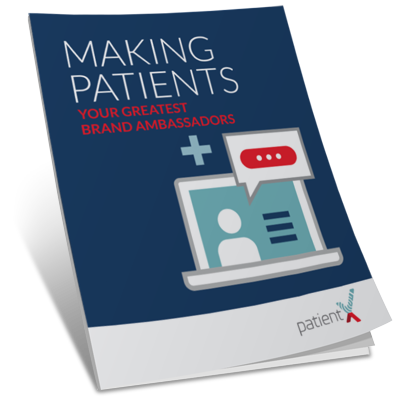 MAKE PATIENTS YOUR GREATEST BRAND AMBASSADORS
Improving patient experience should be your number one goal as a healthcare marketer. By doing this you can make patients your #1 brand ambassadors.
LEARN MORE
Sources:
POSTED ON: August 10, 2018
By Michael Winkleman | Misc
Tags:
About the Author:
---
Michael is the CEO of PatientX, a fast-growing healthcare marketing and branding firm. PatientX strategically develops digital innovations and strategic ideas to encourage patients to view their healthcare providers with a fresh, forward-thinking perspective, and, thus, to nurture better relationships between patient and provider. In his role as CEO, Michael takes great pleasure in helping healthcare providers and healthcare B2B clients with the unique challenges they face. With over 15 years in his field, Michael is no stranger to the challenges one faces in marketing and branding, and he is able to draw from his deep well of experience to deliver optimal strategies and solutions.