No "golden ticket" marketing strategy
You, your facility, & your patients are unique. You all have unique wants, needs, & goals. This is why we get to know you on a deeper level to craft strategies & utilize tactics that are one-of-a-kind to your patients & customers. We don't claim to have the "golden ticket" for your marketing. But craft a strategy that works for you & your goals.
Market to Your Ideal Patient
The age of generic, one-size-fits-all marketing messages is over. Ads & marketing messages should only be shown to the appropriate people at the appropriate time. Healthcare marketing messages must be granular in order to resonate with patients. Don't waste budget putting your ads in front of people who don't need you.
More Efficient & Effective
Because you are not targeting patients who don't need or want your services, there is no waste making your ads more efficient. Also, Return on Investment is easily calculated because all pieces of the ROI cycle are known. This makes you more effective because we can allocate money to channels & messages that actually work.
Attract
You don't need just anyone coming to your website. You need people coming to your site that could become your patients or customers.
How do you get them?
It all starts with Content: blogs, whitepapers, infographics, social media, video, etc. A custom, data-driven Content Strategy is vital for success. But, even if you create phenomenal content, how will people see & consume it? Promoting content & services through tactics like social media, pay per click, retargeting, etc. is essential in attracting ideal patients & customers to you. Do you use Facebook or Twitter? Bing or Google? Instagram or Snapchat? Or do you use them all? This is where we will work with you & your team to create a one-of-a-kind marketing strategy that is based on your patient & customer habits & tendencies.
Nurture
Not everyone who visits your website or engages with your content is ready to walk in your door. You need to develop relationships with patients & customers at every level of the funnel.
How do you Nurture leads?
Focus your marketing & communication efforts on listening to the needs of prospective patients & customers, & provide the information & answers they are looking for. Similarly to Attract Marketing, Nurturing leads starts with a custom, data-driven Content Strategy. Where Nurture & Attract Marketing differ is with what is said with your content. How do you send effective emails? How do you know what your leads want? We will take the time to understand you & your business. From this, we will be able to use our experience & data from your current patients & customers to craft a unique strategy to Nurture your leads & push them further down the funnel.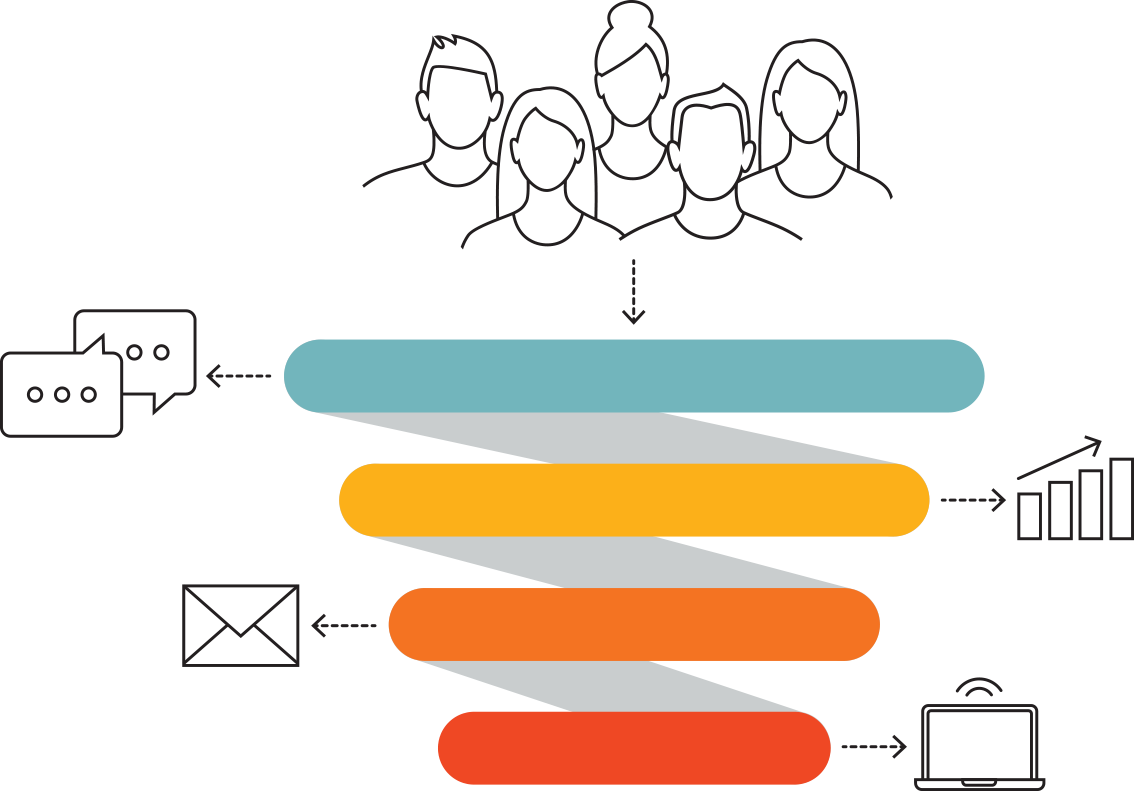 Convert
So, we have all these potential patients & customers on our website, now what? It's time to remove the "potential" & Convert them into patients!
How do you do that? We can help.