Improving the patient experience is an ongoing challenge for most hospital or ambulatory surgical center (ASC) administrators, but a necessary one. A federal government survey ties faster hospital payments to higher patient satisfaction scores, which makes a good experience essential for effective revenue cycle management and improved reputation and ratings. Here's how sentiment marketing can help you improve patients' experience to realize these benefits.
Understanding Sentiment Analysis
The
rapidly growing field of sentiment analysis
tracks online behavior, and "mines" patients' feedback across platforms such as social media to discover opinions omitted from formal surveys. This data can be used for several purposes, including:
Creating personalized experiences, which increase patient loyalty
Identifying service opportunities to improve patients' experiences
Tracking trends in health care or how competitors operate, which enables you to manage your brand strategy better
Superior targeting based on common patterns of patient behavior to improve your marketing ROI
A study published in the Journal of Medical Practice Management of 35,000 online physician reviews showed 96 percent of patient complaints focused on customer service, compared with 4 percent on diagnosis and treatment. Having this type of information, combined with sentiment analysis, enables your facility to serve patients better, based on what you learn from their experiences.
How It Supports Marketing
Staff and patient responses gained through analysis, when combined with responses generated by formal surveys, give you powerful data that provides insight for marketers into the specialties (or doctors) on which patients placed the highest value. By crafting marketing campaigns using social media comments, advertising, blogs and articles based on these factors, you can respond to both positive and negative feedback gleaned from the analysis.
Additional Positive Benefits
Sentiment marketing offers additional benefits for healthcare facilities because it enables marketers to identify internal processes and environmental issues that might need attention in order to improve the patient experience. Cleanliness concerns, unwieldy help desk processes and long wait times, for example, are items that may not come up during a formal survey, but could be the source of frustration for a patient and therefore a sentiment expressed by them.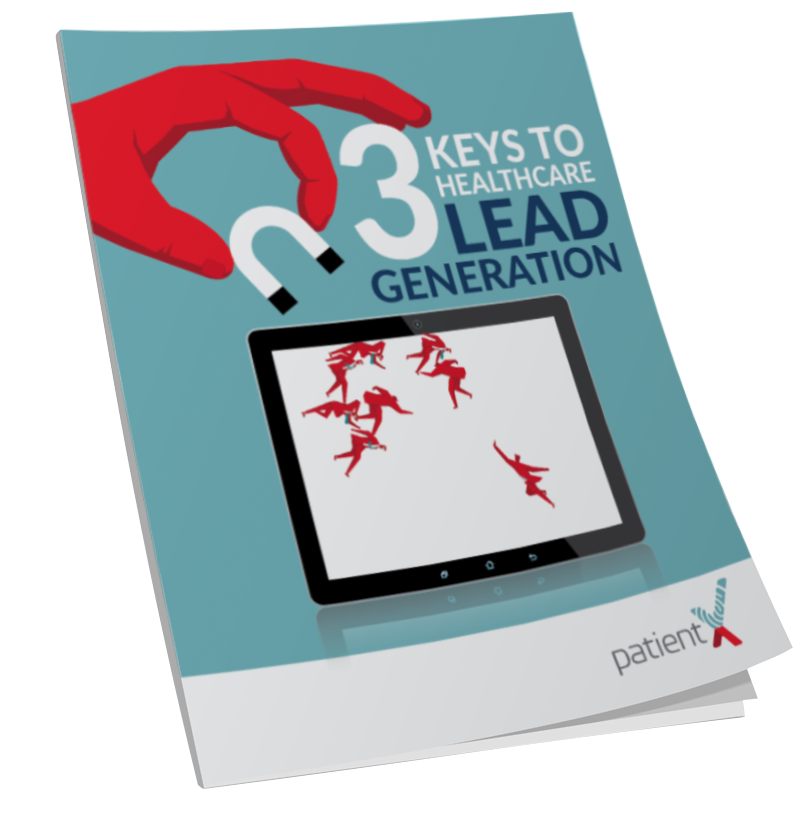 3 KEYS TO HEALTHCARE LEAD GENERATION
The healthcare industry is quickly changing from traditional to digital so online lead generation is more important that ever before!
LEARN MORE
The Role of Big Data
Research from Becker's Hospital Review shows analysis for sentiment marketing purposes provides real-time snapshots of how your service is perceived by patients and allows you to focus on the opinions of all respondents—not just those who complain the loudest. By scoring and categorizing comments, you quantify the patient's experience and discover where improvements are required. Classification also makes it possible to separate comments into HCAHPS categories including communication, which helps staff improve understanding of their scores and factors affecting issues, such as Medicare reimbursements. When sufficient data is available, it's possible institutions will go further than sentiment marketing and incorporate insights into product development or business management strategies.
Facing the Future
With the increasingly competitive healthcare landscape, medical practices wanting to differentiate themselves will need to get to grips with new approaches to digital marketing practices. Sentiment marketing offers narrower, more accurate targeting, invaluable feedback from the target audience, faster detection of issues and the ability to connect with and respond to patients in real time.  That's going to be hard to beat.
POSTED ON: April 21, 2017
By Michael Winkleman | Marketing
Tags: , marketing strategy, patient insights, sentiment analysis, sentiment marketing
About the Author:
---
Michael is the CEO of PatientX, a fast-growing healthcare marketing and branding firm. PatientX strategically develops digital innovations and strategic ideas to encourage patients to view their healthcare providers with a fresh, forward-thinking perspective, and, thus, to nurture better relationships between patient and provider. In his role as CEO, Michael takes great pleasure in helping healthcare providers and healthcare B2B clients with the unique challenges they face. With over 15 years in his field, Michael is no stranger to the challenges one faces in marketing and branding, and he is able to draw from his deep well of experience to deliver optimal strategies and solutions.